Like you, our Mesa Auto Body Repair and Collision Center is passionate about keeping those things that mean the most to us looking good. From restoring vehicles to preserving the environment, we are proud to say we are doing our part and stepping up to the challenge. That is why we chose Onyx HDTM from BASF® to be our Waterborne Automotive Refinish Solution.
Mesa Area Auto Body Repair Shop
When you bring your car to our collision repair center we guarantee to give the best quality repair available with one of the most eco-friendly paint systems in the world. Not only is it safer for the environment, it is also safer for our workers. We are leading the way with a cleaner and greener collision repair center.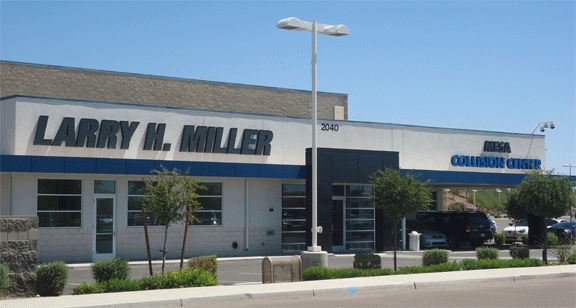 If you've been in an accident or your vehicle has suffered some kind of auto body damage, visit our professional Mesa auto body repair shop to get your vehicle back into shape. At the Larry H. Miller Nissan Collision Center, we will use all the newest technological advances in paint-matching and refinishing to make your car like new again.
Use our online auto body repair appointment form, contact our body shop directly at 888 739-8270, or visit us in person at 2040 West Riverview Auto Drive, Mesa, AZ. We are the Mesa, Tempe, Scottsdale and Phoenix area auto body repair center of choice because we are committed to your satisfaction.