Wheel And Tires Service at Larry H. Miller Nissan Mesa
Tires and wheels play an important role in the safety, control, performance, and comfort of your ride. Over- or under-inflated tires, low tread depth, and misaligned or imbalanced wheels can hinder traction, steering, and fuel economy, so regular tire pressure checks, tire rotations, and wheel balance and alignment services in Mesa are a key part of a good maintenance routine. Refer to the manufacturer recommendations in your vehicle's user manual for the suggested service schedule.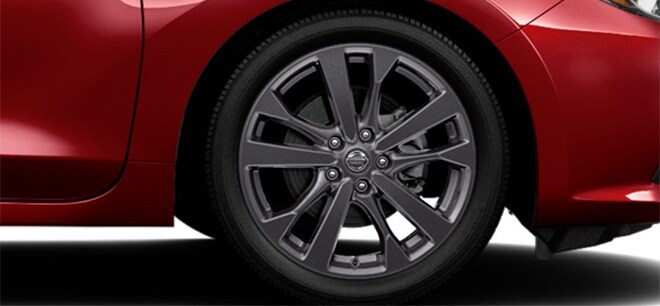 Tires keep your vehicle in contact with the road, so worn, damaged, or improperly inflated tires can decrease traction and fuel economy, and thus it's important to keep your tires in good condition. Be sure to inflate your tires to the manufacturer's specifications and have your tread depth checked regularly. If the tread depth is too low, or if there are uneven wear patters, it's time to replace or rotate your tires, or check the balance and alignment of the wheels.

Wheel balance and alignment has a big impact on the steering and control of your vehicle. The shock and impact of driving can alter the balance and alignment of your wheels over time. If your vehicle is hard to steer or drifts or pulls to the right or left, this could indicate imbalanced or misaligned wheels. Consult with one of our Mesa wheel and tire technicians to restore your wheels to the balance and alignment settings specified by your manager.

Keeping your wheels and tires at the recommended configurations will optimize traction, stopping, steering, and gas mileage, so check in regularly for your scheduled wheel and tire maintenance checks to keep your car running safe and smooth.