Muffler and Exhaust Service at Larry H. Miller Nissan Mesa
Your vehicle's muffler and exhaust system helps reduce the noise and harmful emissions produced by the internal combustion of your engine. The exhaust gasses are captured by the cylinder heads and exhaust manifold, passed to the catalytic converter, and then released through the muffler and tailpipe of the vehicle.

Each of these parts plays an important role in keeping harmful fumes out of the vehicle cabin as well as minimizing pollutants that may be released into the atmosphere. The catalytic converter helps transform toxic gasses into less harmful emissions and is required by law to help keep the air clean.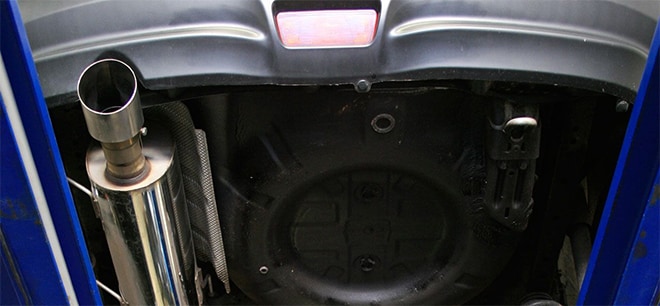 The muffler's main job is to reduce vehicle noise, and a high noise level is an indicator that your system needs attention. Other symptoms include smoke from the tailpipe, fumes or odors in the vehicle cabin, or a failed emissions test. If your vehicles exhibits any of these symptoms, be sure to schedule a service appointment right away.

If your muffler or exhaust system is malfunctioning, it can limit your fuel economy and vehicle performance, as well as emit harmful gasses into the air, so be sure to follow your manufacturer's recommended service schedule or check with one of our Meza, AZ muffler and exhaust technicians if you notice any problems.